Happy Valentine's Day everyone! You may have noticed a lack of VDay hype on Bee's Knees - because I am a bit of a hater when it comes to this holiday! I don't see the point, I don't like buying silly presents for a random commercial holiday that has no significance to my relationship with my boyfriend.. and *breathe*. Besides, it's too close to Christmas/his birthday/my birthday for us to bother. The most we do is buy each other cards, but if you are a fan then I hope you have a lovely day!
This gorgeous set contains 16 good sized mini Gatineau beauty products, all packed into this cute pink bow make up bag!
This photo really shows how much you get for your money here - we're talking a lot of products, and from a high end brand like Gatineau that can only be a very very good thing! I was pleased to see a few anti-ageing products in this set, something I'm taking an interest in now I've reached the ripe old age of 24! I'm kidding! Well, sort of. I have been leaning towards products with anti ageing properties over ones that don't, so spotting the little gems in this set really made me excited to try them!
Obviously there are a lot of products here, and I haven't had chance to try them all out yet properly.. even if I had this would be the longest post ever if I reviewed everything so I'm just going to show you close ups of the items and share my initial thoughts on the ones I've tried.
Vital Feeling range: exfoliating body gel and intense nourishing body lotion (30ml each)
I tried this exfoliating gel in the shower and it's a very intense exfoliator that really shifts dead skin. Perhaps a bit too harsh to use every day, but a good option for a pampering shower before a night out!
I also tried the Vital Feeling body lotion and found it to be a very thick, creamy consistency that was perfect to use after exfoliating. Two thumbs up!
AquaMemory range: Moisture Replenish cream-gel and Moisture Replenish mask (15ml each)
I've tried one of these products too - mainly because my skin has been so dry and tight this week it was in desperate need of some moisture!
The cream-gel is a nice formula, different to anything I've tried before and sank into my skin a treat leaving skin smooth with no dry or oily patches - winner.
Age Benefit range: Integral Regenerating cream and Anti Age premium (15ml and 5ml)
I haven't had the chance to use these products yet, so watch this space for a full review soon!
Melatogenine range: Advanced Rejuvenating cream, Anti-wrinkle Radiance mask, and Youth Activating beauty serum (15ml, 15ml, 5ml)
I've only tried the mask out of this range, but a moisture mask is a new concept for me! Only 15 after applying a layer to my skin before bed time it felt like my skin had drunk the mask up! By morning my skin was soft and fresh looking - my favourite product by far.
Floracil Gentle Eye Make Up Remover, and Gentle Silk Toner (for sensitive skin) (50ml each)
How pretty are these two little bottles?! I love them! I have used both products and found them to be amazing - they're a watery substance as opposed to oily which is what I had expected. The eye make up remover especially does a fantastic job, easily removing make up without having to scrub and leaving no residue on your face. The toner is very effective but without stripping the skin, and with both a little bit of product goes a very long way. I can see these lasting me a while, and they'd be ideal for taking on holiday.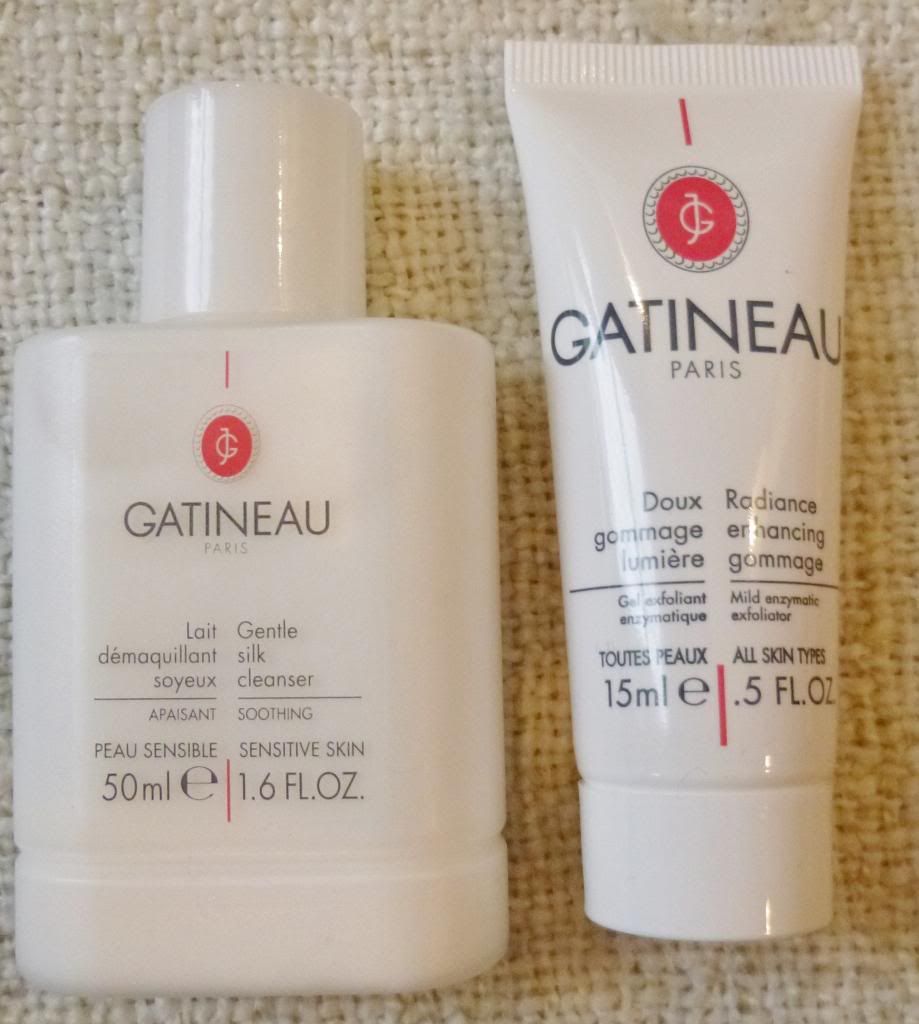 Gentle Silk Cleanser (for sensitive skin) & Radiance Enhancing Gommage (50ml and 15ml)
I love this cleanser so much! I took a break from using my Clarisonic to try it out and I'm happy I did. It smells divine but doesn't feel harsh on my skin at all which is brilliant. With sensitive skin you often have to sacrifice nice smelling products because they usually have harsh effects, but not this cleanser! And again, I think this 50ml will last a while.
I haven't tried the Radiance Enhancing Gommage yet but I am keen to! I've never used a gommage before so it's a new concept for me.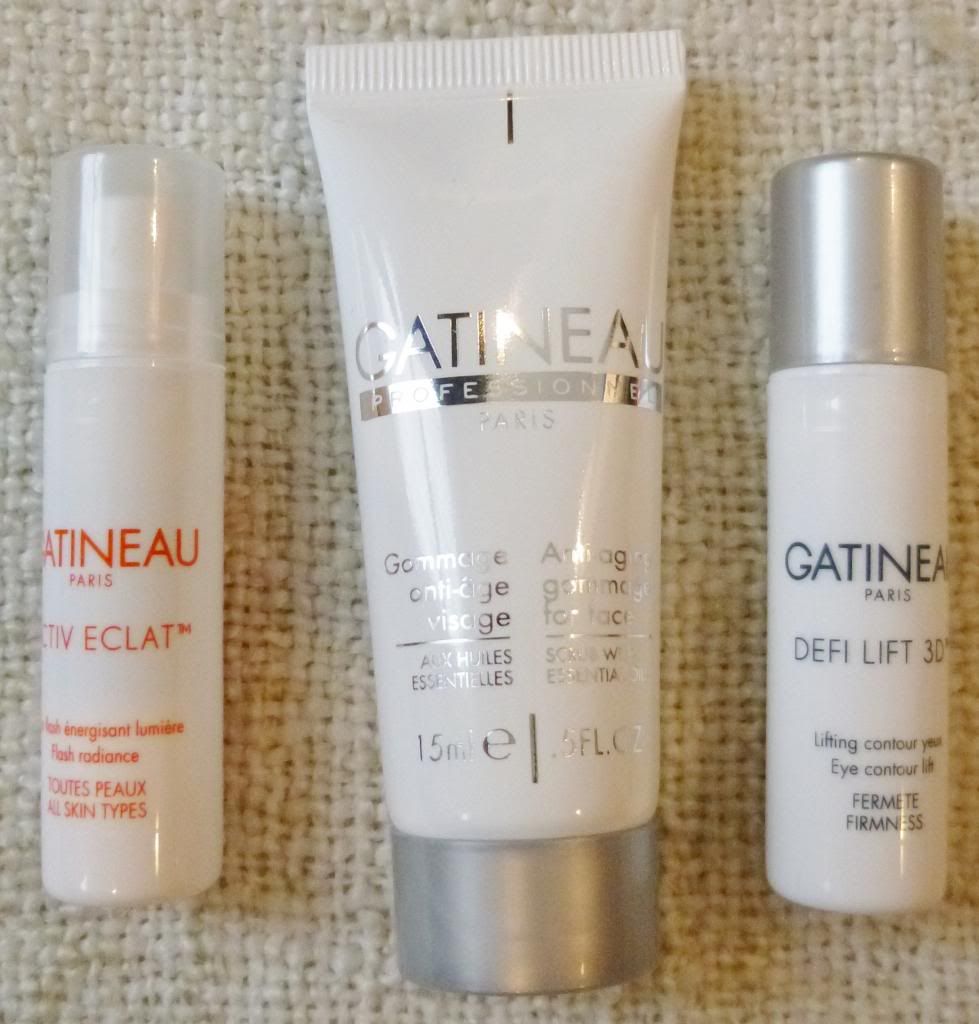 Activ Eclat, Anti-Ageing Gommage for Face, Defi Lift 3D (5ml, 15ml, 5ml)
Out of these I've only used the Defi Lift which is an eye cream. This is a great cream that smells lovely, sinks in easily and feels soft on my eye area . I can't really comment on whether it did anything for my eyes as I've not used it long enough, but I will post a proper review soon. What I can say is that I used a tiny amount and it still felt like too much, so the 5ml of product you get here will go a long way (again! How many times have I said that already?!)
PHEW. All done. As you can see, you get a great deal for your money here from QVC and I'm sure the bloggers reading this will be itching to invest the £44 this costs in return for the chance to try so many excellent products from Gatineau. There's everything from day cream to night cream and all sorts in between! I know I can't wait to try everything out properly and assess the long term benefits, so watch this space for reviews in the coming weeks (and probably months! 16 products!)
This is a great way of sampling some of the offerings from Gatineau before parting with your money, and if like me you're keen to give some anti-ageing products a go, it's also excellent for seeing what works for you before splashing the cash. And don't even get me started on the cute bow bag...
Well done and thank you if you made it this far - I know this has been a mammoth post but I felt it was necessary to do all these lovely little beauties justice! I hope you enjoyed, and I also wish you a Happy Valentine's Day, even if you're a bit of a VDay grinch like me!